Son Power Is Anchored in God's Word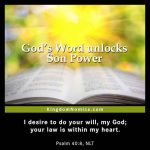 The Word of God is like a diamond; it has many facets. Its applications are numerous. It is living and powerful, and it works in those who receive and trust in it as God's revealed will for us. We can read passages multiple times, and depending on our needs at the moment, we can discover a new or different application that speaks to our hearts and specific situations. The more scripture we read and put into practice, the greater vision God gives us for applying his Word and the Son-powered life to our everyday situations. [more…]
.
Jesus Christ Is Our Power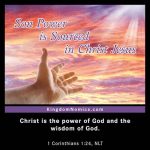 The Bible calls us to this progression of experienced power when it says, "Wake up, sleeper, rise from the dead, and Christ will shine on you" (Ephesians 5:14, NIV). We see in this verse a wonderful promise of seeing Jesus Christ work in and through our lives and circumstances. When Christ shines on the life of the believer, things happen!
Our focus here is on spiritual power. There are many kinds of power: secular, political, physical, informational, and even personal. However spiritual power, God's power imparted to us by Jesus Christ through the Holy Spirit, trumps all other power whether it be earthly power or other supernatural power. [more…]
Son Power at Work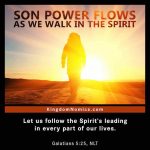 It is by daily walking in the power of the Holy Spirit that we live our new lives in Christ. Now it is time to discuss what we should actually be seeing in our lives when the Son is working in us and through us.
The Spirit knows the mind of God, and he is the deliverer of all that God desires for us to know about my life and living for him. He is the one who teaches us all things and also empowers us to do what God desires. It is vital that we keep our hearts and minds open to him. He enlightens us, enables us, teaches us, and imparts his life to us. [more…]
Living the Son-Powered Life Day by Day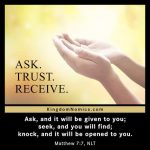 Our relationship with God is not passive or dormant; it is dynamic, full of purpose, active, creative, and productive. In order to accomplish all that God has willed for us, it is critical that we utilize the time we have on earth. We are here for such a short time, and Scripture actually instructs us to "number our days" (see Psalm 90:12, NIV).
God has created us in Christ Jesus to do good works (see Ephesians 2:10, NIV). And we need to be busy doing them until he either comes for us or we physically die and go to live with him. It is our responsibility to be the hands and feet and voice of Jesus. God has taken each one of us, transformed us, and now has a plan for how we can make a difference in his world. [more…]
.
[Go to 3. Lock In to Son Power]