Think about the word trust with me for a moment. What does it really mean? What do you trust in? Who do you trust? And what does your behavior show about your trust—in people and in things? A quick Google search turns up this definition of trust: "assured reliance on the character, ability, strength, or truth of someone or something; one in which confidence is placed."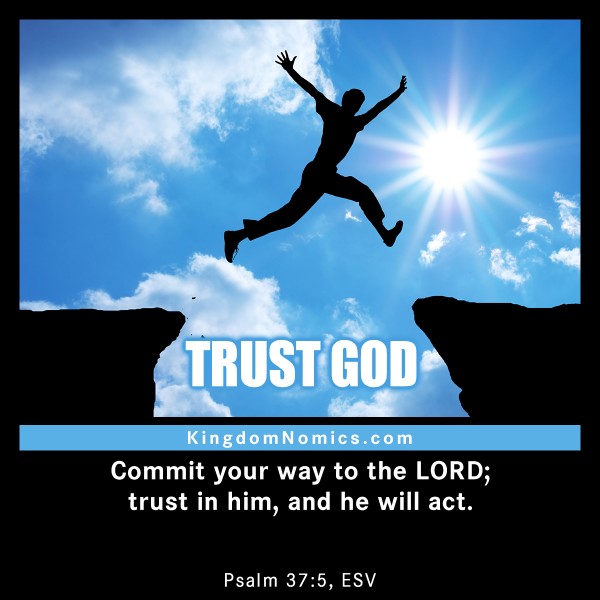 Hmm … does that describe your trust in God? Do you have an assured reliance in his character, his ability, his strength? Do you have confidence in him?
When we accept the salvation of Jesus Christ, it is the first step in becoming the kind of Converterlator God wants us to be. We begin a journey where life takes on a whole new perspective as we learn what the Bible has to tell us about God and his plan for our lives. Our view of life and our view of this world begin to change as the Spirit of God enlightens us through his Word about this temporary, perishing world and eternity to come. As a result, our goals and motivation for living totally change.
We live in a world where so much is really beyond our control. Variables beyond count impact our lives in ways we would not think possible. If we are to maintain a sense of balance, contentment, and peace in our lives, we must learn to trust in God and his provision for us. The Bible tells us, "Now faith is confidence in what we hope for and assurance about what we do not see" (Hebrews 11:1). We have confidence and assurance that we can trust in him!
The decision to believe in the person of Jesus Christ, alone, for personal salvation is by far the most important life-impacting decision a person will ever make. But our decision to believe is only the beginning. As we learn more about God, we learn to trust him more, to have confidence in his character, to rely on his ability and strength. We walk through life, with an expectation of seeing God perform his good work toward us, for our expectation is from him, "My soul, wait silently for God alone, for my expectation is from Him" (Psalm 62:5, NKJV). We have confidence in his promises to work in our lives.
Conviction is a key component of faith. Scripture tells us, "When you ask, you must believe and not doubt, because the one who doubts is like a wave of the sea, blown and tossed by the wind. That person should not expect to receive anything from the Lord" (James 1:6–7).
We must have the conviction that the Word of God is living and powerful and that it works in those who receive and trust in it. The promises of God are all sourced in him and find their "yes" in Jesus Christ. We must have the conviction that we serve a God who sees and provides. When he gives us an assignment, we can be confident of experiencing his provision. "The one who calls you is faithful, and he will do it" (1 Thessalonians 5:24).
There are many potential Converterlators sitting on the sidelines. Many times we hear people say, "I know that," or "I've already heard that." Their problem is that they have a "head knowledge" of God, but the relationship has yet to make a difference personally in their lives. They may even have a strong intellectual belief in what the Bible says, but it is not governing their everyday decisions and activities. They have not truly accepted the truth of God's Word with faith. Faith includes an intellectual acceptance of the truth, plus conviction and confidence that will compel a person to take action. It involves trust that God is faithful!
There are Christians who think, "I've made my decision for Christ, now it is 'coast time' for me until I go to heaven." Anyone who has this mindset is in for a rude awakening and great disappointment in the world to come. We are to be in partnership with almighty God and each other, "For we are God's fellow workers. You are God's field, God's building" (1 Corinthians 3:9, ESV).
God is looking for people that he can use in this world, "For the eyes of the Lord run to and fro throughout the whole earth, to give strong support to those whose heart is blameless toward him" (2 Chronicles 16:9, ESV).
Things change when Jesus Christ assumes control of our lives. We become new creations and are transformed into instruments for service to God. We no longer try to earn our way to God through works. We live our lives by the law of faith, and we become ambassadors for him. We grow in our understanding of who God is and learn to trust him more day by day. The love of Christ molds our attitudes, thinking, and behavioral patterns. Jesus Christ progressively gains control over all aspects of our lives. And we in turn, are able to accomplish great things for him; things that will last for all eternity!
At this point in your life, what and/or who are you trusting in: for stability, for security, for acceptance, for strength? What needs to happen in your life in order for you to develop an assured reliance on the character, ability, strength, and truth of God?
Related articles:

The Compass of Life
Experiencing Grace