As we begin to make intentional decisions about our time, talent, and treasure, our attitudes about life begin to change as well. When we reflect upon the Scriptures, it's not long before we recognize that we see the world in a way that contrasts sharply from those who do not have God's view.
This is incredibly important because attitudes determine thoughts; thoughts govern feelings; and feelings guide actions. Those actions, of course, reinforce our attitudes, so that what we have in KingdomNomics is the opportunity to break negative cycles of behavior and begin positive ones.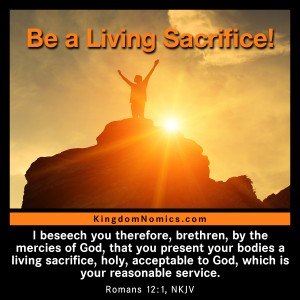 People, of course, try to do this every day, but it's simply not possible through the limits of human effort. One of the greatest insights of the Scriptures is validated through our simple observation of this world: No matter how hard we try, we fall into the same ruts. We make the same mistakes. We can't break the cycle of human sin—unless we allow Christ to break it for us.
So we're talking about a new set of attitudes, but attitudes that don't originate in our best intentions. They must come from the Spirit of God, living within us as believers. Each one of us who accepts Christ as Savior will find that the Holy Spirit is now within us, and is working each day to reinforce these kingdom attitudes.
As we soak, sow and flow, we will begin to understand and integrate these attitudes into our lives. Here is just one that I've found to be foundational to living a life that echoes into eternity: submission and yielding to God.
"Therefore, I urge you, brothers and sisters, in view of God's mercy, to offer your bodies as a living sacrifice, holy and pleasing to God—this is your true and proper worship" (Romans 12:1).
A sacrifice is something costly that is offered fully and without reservation. In the time of Paul, who wrote these words, animals were presented for sacrifice to God. But God had come in the flesh, through Jesus, to present himself as a living sacrifice for people. And in response, we present ourselves to him. This means that no longer are we slaves to legalistic, obligatory sacrifices. We are free to be joyful givers for the sake of righteousness. We don't make empty gifts with our hands, but full and loving gifts with our hearts in an "I want to obey" attitude toward God (Romans 6:17). It's the end of empty religion and the beginning of loving relationship.
There are many more attitudes, all outlined in the Scriptures. The life of KingdomNomics is a life of daily faith that something wonderful is just around the corner. With God, this is always true. He "is able to do immeasurably more than all we ask or imagine, according to his power that is at work within us" (Ephesians 3:20).
Ask your heavenly Father to show you what attitude you need changed by his Holy Spirit?