The late Dr. Bill Bright once wrote, "The more we walk in the power of the Holy Spirit and allow Him to guide and control our lives, the more Christ's character will shine in what we say and do."(1) That's what I want for my life, for the Son to be shining in all that I say and do.
My Heart's Goal
I frequently begin my day by asking our heavenly Father to direct my heart toward his grace and love. I want my heart to be prepared so that I am ready to have communion with the Holy Spirit. The Spirit knows the mind of God, and he is the deliverer of all that God desires for me to know about my life and living for him. He is the one who teaches me all things and also empowers me to do what God desires. It is vital that I keep my heart and mind open to him. He enlightens me, enables me, teaches me, and imparts his life to me.
As we consistently reflect upon God's Word, we experience communion with the Holy Spirit and receive his revelation. This positions us to have the Holy Spirit share with us what God wants us to know in any given moment. It is only by knowing and applying the Word of God every day that we can experience consistent Son Power.
Son Power Released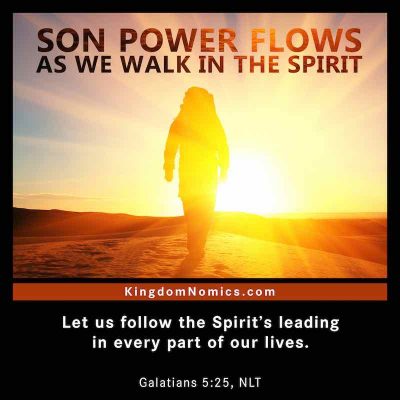 When we are living by the Spirit, our lives will display his power. When the Spirit's power is displayed, we will personally experience God's work in us and through us and see his power displayed in the world around us. We must set our minds on what the Spirit desires. How do we find out what the Spirit desires? We do that by reading the Word of God, discussing it, thinking about it, and letting our insight guide our behavior. Be ready to apply God's Word to your life situations and allow Son Power to give you the wisdom and strength to act. The Spirit promises to bring us freedom if we live life with him, listening for his guidance and acting on his promptings. When we practice what is illustrated in this Sonburst, we will experience the power that only comes from God.
To live righteously, one needs supernatural power. This supernatural power comes to us through the Holy Spirit and it is through God's Word that we learn about this power and what it can accomplish.
Faith is the key. Faith releases the Son Power of God. Faith and trust in self will fail for all of our true power is sourced in Jesus Christ. Paul said it well, "Our great power is from God, not from ourselves" (2 Corinthians 4:7).
Fortunately, God has already made this resource available to us. By his divine power, God has given us everything we need for living a godly life. We have received all of this by coming to know him, the one who called us to himself by means of his marvelous glory and excellence. And because of his glory and excellence, he has given us great and precious promises. These are the promises that enable you to share his divine nature and escape the world's corruption caused by human desires.
                                                           —2 Peter 1:3–4
By faith we accept Scripture as a true documentation from God, and we increase our understanding of who God is and how he works when we study it. In the book of Acts we read, "For in Him [the resurrected Christ] we live and move and have our being" (Acts 17:28, NKJV). Son-powered living flows from Jesus Christ through his Holy Spirit to each one of us.
God works in many ways, many of which we cannot see, as his Spirit guides, directs, and leads us. When we allow the Holy Spirit to control our lives, he is constantly working to transform us and consistently working through us.
What does this really mean? It means that as you surrender to the Holy Spirit's control.
The Holy Spirit is working in you to accomplish God's purposes — AS YOU:
… focus on glorifying God through worship, obedience, and service.
Now all glory to God, who is able, through his mighty power at work within us, to accomplish infinitely more than we might ask or think.
                                                 —Ephesians 3:20
… experience freedom to live righteously
For you have been called to live in freedom, my brothers and sisters. But don't use your freedom to satisfy your sinful nature. Instead, use your freedom to serve one another in love.
                                                 —Galatians 5:13
… live a life of promise and blessing
It is God who works in you to will and to act in order to fulfill his good purpose.
                                                 —Philippians 2:13, NIV
… face temptation
The temptations in your life are no different from what others experience. And God is faithful. He will not allow the temptation to be more than you can stand. When you are tempted, he will show you a way out so that you can endure.
                                                 —1 Corinthians 10:13
… confront times of adversity
The Lord is close to all who call on him, yes, to all who call on him in truth.
                                                  —Psalm 145:18
… seek direction
If any of you lacks wisdom, you should ask God, who gives generously to all without finding fault, and it will be given to you.
                                                 —James 1:5, NIV
… encounter times of fear or anxiety or disappointment
God is our refuge and strength, always ready to help in times of trouble.
                                                 —Psalm 46:1
Ask the Holy Spirit to reveal to you the ways in which he is empowering you through the moments of your days. Ask him to fill you with supernatural power to live a life of purpose and passion. Read God's Word and allow it to fill your mind and your heart so that Son Power might be a force in your life that makes a difference.
In what ways do you currently see Son Power being released in your life?
(1)Bill Bright, His Intimate Presence: Experiencing the Transforming Power of the Holy Spirit (Orlando, FL: NewLife Publications, 2003), 188.
Continue reading "Living the Son-Powered Life Day by Day"