Let's face it, the difficulties we see and experience on a daily basis are beyond our ability to fix. Satan is doing everything he can to convince us that we really don't need God or his power working in us, for us, or through us. How do we deal with the opposition we inevitably are encountering?
In my life, I have found that I need to engage powerful weapons when it comes to protecting myself against Satan's schemes. Satan will use whatever means he can to devour my time, talent, and treasure and to keep me from using my resources for God's purposes and his glory. Over time I have discovered five "Power Weapons" for fighting against Satan. These weapons are entirely dependent on God's power and not my own.
Power Weapon 1: Call on God
Call to Me, and I will answer you, and show you great and mighty things, which you do not know.
                                                —Jeremiah 33:3, NKJV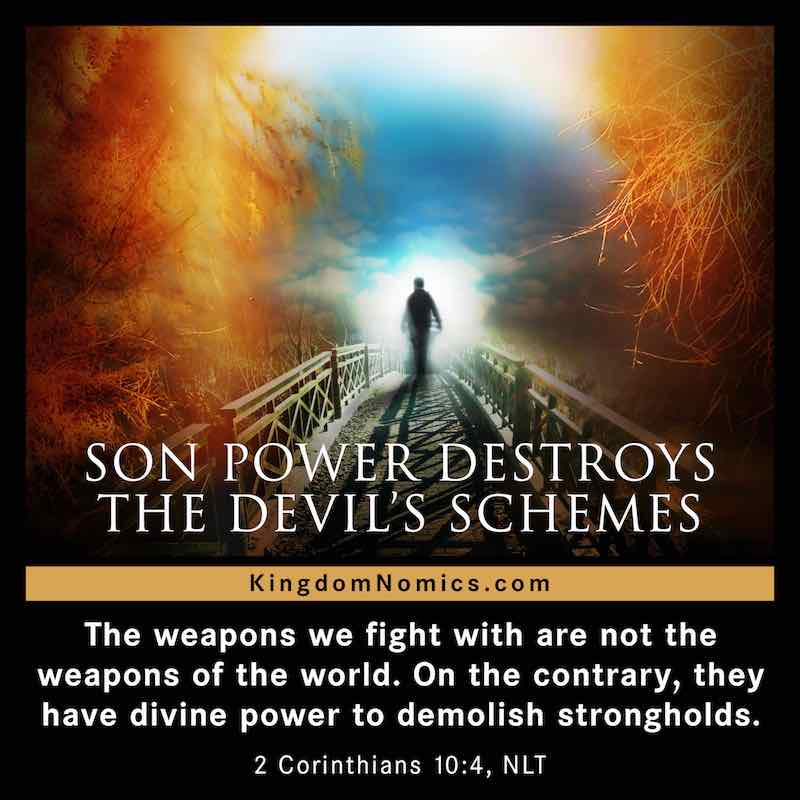 This is a statement made by the Creator of the universe himself! The statement seems so simple, but the reality of it is almost beyond belief … almighty God will answer me! All I need to do is call out to him.
We need to remember how great the counsel of God is and how mighty his work is. By his mighty power he created the heavens and earth. Throughout the Old and New Testaments we read of his intervention in the lives of his people. As we expand our knowledge and experience of just how great God is, we will more quickly remember to turn to him when the going gets rough.
God has promised to answer us! He has promised to show us great and mighty things! He has promised to strengthen us! I want to pursue God as the first priority in my life. I want to be a Converterlator, an agent of change. I want to fulfill the Great Commission by strategically investing my time, talent, treasure in God's purposes. I want to call on God … first … when I need help and guidance and protection.
Power Weapon 2: Focus on God's Power through Jesus Christ
When we take time to reflect on God's power, we're amazed. And this in turn expands our vision of what God can do in us and through us. Images of God's power are presented throughout the entire Bible. And yet, even then, we only see the "mere edges" of his ways (Job 26:14, NKJV). His power gives us confidence that he can overcome anything that is causing difficulty in our lives. His presence can dissolve any obstacle. Since he is the creator of all things, he knows all about our world and has the creative ability to deal with anything that is in need of repair.
I am a huge fan of acrostics, which are poems, word puzzles, or other compositions in which certain letters in each line form a word or words. An acrostic can help bring to mind important topics. For me, most often my acrostics are words associated with key Bible verses that help me remember key attributes of God. Here is one of the acrostics I have developed that helps me remember that when I call on the power of Christ, he will, through the Holy Spirit, provide what I need. The word is CHRIST, with each letter giving me a key attribute of God. I've then associated a key verse with each attribute. This word is important to me, but it is not a formula. You can put an acrostic together on your own.
C          Companionship
God has said, "Never will I leave you; never will I forsake you." So we say with confidence, "The Lord is my helper; I will not be afraid. What can mere mortals do to me?"
                                                 —Hebrews 13:5–6, NIV
H         Hope
Now may the God of hope fill you with all joy and peace in believing, that you may abound in hope by the power of the Holy Spirit.
                                                 —Romans 15:13, NKJV
R         Revelation
He reveals deep and secret things; He knows what is in the darkness, And light dwells with Him.
—Daniel 2:22, NKJV
I           I
My old self has been crucified with Christ. It is no longer I who live, but Christ lives in me. So I live in this earthly body by trusting in the Son of God, who loved me and gave himself for me.
                                                 —Galatians 2:20
S          Submission
For the weapons of our warfare are not carnal but mighty in God for pulling down strongholds, casting down arguments and every high thing that exalts itself against the knowledge of God, bringing every thought into captivity to the obedience of Christ.
                                               —2 Corinthians 10:4–5, NKJV
T          Trust
Trust in the Lord and do good; dwell in the land and enjoy safe pasture. Take delight in the Lord, and he will give you the desires of your heart. Commit your way to the Lord; trust in him and he will do this: He will make your righteous reward shine like the dawn, your vindication like the noonday sun.
—Psalm 37:3–6, NIV
When I soak my mind and heart on this acrostic and its accompanying verses, I experience the wonderful peace and power that only come from God. I also use it in my conversations with the Lord, sowing my conversation with its contents. The Holy Spirit has often in his grace quieted my heart and mind. We can be freed and empowered when we use the Scripture in this way.
Power Weapon 3: Be Filled with the Holy Spirit
God's love has been poured into our hearts through the Holy Spirit who has been given to us.
—Romans 5:5, NIV
We live by the Spirit. When we are filled with the Spirit, we will not fulfill our own desires, but those that God has given us. We are talking Son Power here, power that enables us to accomplish all that God has for us to do and be.
You and I are like ink pens. An ink pen is an instrument to be used by another. Without ink, the pen is useless. A pen without ink is left on the desk. Only with ink is it fit for use by the writer and prepared for the mission it was designed for. The Spirit is the "ink" in us. In order for us to be instruments God can pick up and use to continue "writing his story" in our world, we need to be filled with the ink of the Holy Spirit. When we are filled, we can flow with the Spirit into our daily lives with his power. This Son-powered life overcomes our sinful nature. For as Paul said in his letter to the Galatians, "Those who live only to satisfy their own sinful nature will harvest decay and death from that sinful nature. But those who live to please the Spirit will harvest everlasting life from the Spirit" (Galatians 6:8 NLT).
We often fail to believe what God can actually do in our lives and circumstances if we truly soak, sow, and flow in currents of the winds of divine Son Power. Take a step of faith and flow with the Spirit!
Power Weapon 4: Use the Armor of God
Be strong in the Lord and in his mighty power. Put on all of God's armor so that you will be able to stand firm against all strategies of the devil. For we are not fighting against flesh-and-blood enemies, but against evil rulers and authorities of the unseen world, against mighty powers in this dark world, and against evil spirits in the heavenly places. Therefore, put on every piece of God's armor so you will be able to resist the enemy in the time of evil. Then after the battle you will still be standing firm. Stand your ground, putting on the belt of truth and the body armor of God's righteousness. For shoes, put on the peace that comes from the Good News so that you will be fully prepared. In addition to all of these, hold up the shield of faith to stop the fiery arrows of the devil. Put on salvation as your helmet, and take the sword of the Spirit, which is the word of God. Pray in the Spirit at all times and on every occasion. Stay alert and be persistent in your prayers for all believers everywhere.
                                                        —Ephesians 6:10–18
This passage presents one of the most powerful truths in the Bible: we have the ability to protect ourselves against the attacks of Satan. Read the passage again and identify the various pieces of armor: belt of truth, body armor of God's righteousness, shoes of peace that come from the Good News, shield of faith, helmet of salvation. All of these represent defensive armor; things that will protect us from Satan's attacks. When we are under attack, we often don't think about using God's truth, righteousness, peace, Good News, faith, or salvation. These words seem to lack power. But we need to remember they are not words, they are tools in the hands of the Holy Spirit to empower us.
There is one offensive item listed in this passage, and that is the Word of God. Paul calls it the "sword of the Spirit." It is the weapon used to aggressively counter the overtures of Satan as he attempts to ensnare us in his strategies of stealing, killing, and destroying. It is only when we soak our hearts in the Word of God, so much so that it actually becomes a part of our spiritual DNA that we will be able to use this weapon effectively. God's Word will work on our behalf when we allow it to be used as the sword of the Spirit.
Power Weapon 5: Experience God's GRACE
I believe one of the greatest weapons we have in our arsenal is biblical truth. When we are in the middle of a spiritual attack or trial we can firmly stand on God's Word. I'm including another acrostic here, GRACE, because the verses remind me that God is working in my life. You can easily adapt this acrostic with verses that are important to you.
G         God's Greatness
You are of God, little children, and have overcome them, because He who is in you is greater than he who is in the world.
—1 John 4:4, NKJV
R         Rejoicing
Always be full of joy in the Lord. I say it again—rejoice!
—Philippians 4:4
A         Acceptance
And the seed that fell on good soil represents those who hear and accept God's word and produce a harvest of thirty, sixty, or even a hundred times as much as had been planted!
—Mark 4:20
C          Compel
For Christ's love compels us, because we are convinced that one died for all, and therefore all died.
                                                 —2 Corinthians 5:14, NIV
E          Eternal Rewards
'Look, I am coming soon, bringing my reward with me to repay all people according to their deeds.'
—Revelation 22:12
Each one of these verses represents a "power nugget" motivating us to rely on the Son-powered life. Power nuggets are verses that fuel our everyday living.
As we learn to use these Power Weapons we will lead a victorious Christian life. It can be difficult to remember to turn to God, and to his Word, when we are experiencing difficult times. However, God's power is what we need more than anything else in those times. Take time to soak your heart and mind in God's great promises, so that you will have them ready when you need them.
How much time are you currently spending in God's Word so that you will have his promises ready when you need them?
Continue reading "Applying Son Power to Your Time"