The Word of God is like a diamond; it has many facets. Its applications are numerous. It is living and powerful, and it works in those who receive and trust in it as God's revealed will for us. We can read passages multiple times, and depending on our needs at the moment, we can discover a new or different application that speaks to our heart and specific situation.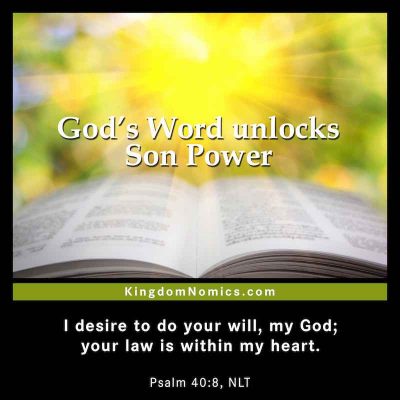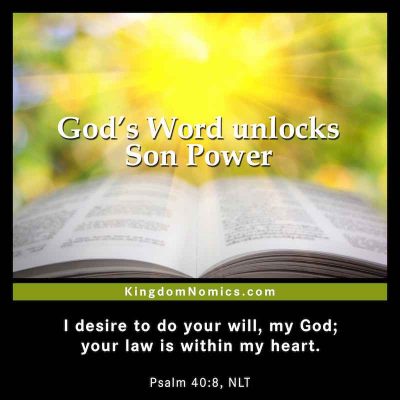 Once we enter into a relationship with God, an expanded viewpoint of how his Word works in us and through us enables us to take one verse, a series of verses, or even verses that are related but in different parts of the Bible, and study them together, applying them directly to the circumstances in our life. This approach often leads to a deeper understanding and multiple strategies for making Son-powered living a reality in our life.
In the very first KingdomNomics book I outlined the principle of "Soak, Sow, and Flow." We need to soak our minds in God's Word, sow that Word back to him in prayer, and then let his power flow through us. The more Scripture we read and put into practice, the greater vision God gives us for applying his Word and the Son-powered life to our everyday situations. We must immerse ourselves in the Word of God on a regular basis in order to receive instruction and understanding about how to activate the Son-powered life in us. Without God's Word operating in our life, we will be unfruitful. God has given us his Word to empower us to live the Son-powered life. However, we must choose to take advantage of his provision for doing so.
Experiencing Son Power requires time and commitment! We want an easy way, but there is no easy way to take time to really know God's Word.
The 4 Rs
As I consider how Son Power works in and through all believers, I believe it is best explained by what I like to describe as the "4 Rs": Relationship, Revelation, Reflection, and Redemption. All of these Rs are connected to and interrelated with each other.
Relationship
We have a relationship with almighty God through the Son, Jesus Christ. This relationship is established by receiving Christ and our personal Savior and trusting in his saving work on the cross.
But to all who believed him and accepted him, he gave the right to become children of God.
                                                       —John 1:12-13
And because we are his children, God has sent the Spirit of his Son into our hearts, prompting us to call out, 'Abba, Father.' Now you are no longer a slave but God's own child. And since you are his child, God has made you his heir.
                                                       —Galatians 4:6-7
There is no closer relationship than being a child and an heir to someone. Children, and heirs, have rights and privileges that other people do not have. The reason for this is the fact that a very special relationship exists which other people do not have. In addition, when we have a love relationship with someone, we become transparent with one another which eventually leads to more self-revelation. It is because of this kind relationship that Son Power works in our life.
Revelation
The relationship we have with God, when it is alive and growing, leads to revelation. As we spend time in God's Word, he reveals his will to us.
'Call to me and I will answer you and tell you great and unsearchable things you do not know.'
                                                —Jeremiah 33:3, NIV
As we spend time in God's Word, he will guide and direct our steps as we trust in him. All of this becomes a reality in our life as we allow the Holy Spirit to renew our mind and transform us from within.
Reflection
After something is revealed to us we must reflect upon it. What does this mean? What should I do with what has been revealed to me? How does this impact my life and the world around me? Does this revelation require action on my part?
This really is the beginning of Son Power working its way in and through our lives. When we are faced with the claims of Christ, we must make a decision. Son Power enlightens us in the process of revelation. It directs us to make right decisions and empowers us to follow through on those decisions.
Redemption
Once we decide to act on what has been revealed to us, we are in a position to redeem our world for God and his purposes.
Because of our relationship with God through Jesus Christ we understand that we are living in a world that in its present form is passing away. Everything we can see and touch is in the process of perishing. But we know that we can converterlate the perishable items of time, talent, and treasure of this world into the imperishable values and treasure of the world to come. The New Testament instructs us, "Make the most of every opportunity" (Ephesians 5:16).
If you were to ask a friend what the word redemption meant, they might be a little perplexed. The definition of redemption according to Merriam Webster is the act of making something better or more acceptable, the act of exchanging something for some kind of award. Other definitions include repurchasing something or making a deliverance or rescue. We could also include the idea of exchanging something by using something else of value. To redeem something essentially means to buy it back or regain possession of it. It is a "recover and restore" process.
When we decide to move into the redemption phase of God's revelation, we are not merely making the most of something. We are actually intentionally seizing an opportunity for a special work. Philippians 2:13 tells us, "For God is working in you, giving you the desire and the power to do what pleases him."
Revelation is sourced in God. He gives us the mind of Christ so we can understand his will. It is the Spirit who reveals that will to us as we cultivate our relationship. It is in the reflection process that we make the decision, "I want these truths to become personally operative in my life. I want Son Power to give me the capacity and power to incorporate them into my life."
And the more we practice these concepts, the more we grow in our relationship with God. It all comes full circle and we begin the process again.
A Sonburst of Revelation to Grow By
The 4 Rs are essentially intertwined and represent a cycle. They also intersect with the "soak, sow, and flow" principle. Since this is a circular illustration, I've also added a "grow" component to the "soak, sow, and flow" that takes the process one step further and corresponds to the redemption of the 4 Rs.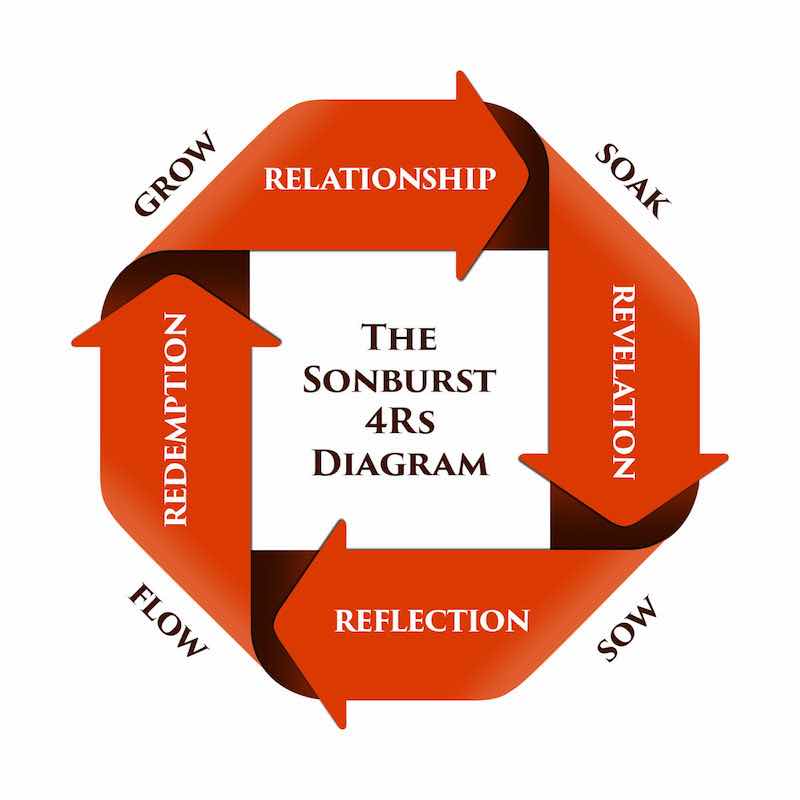 I believe this concept is best illustrated by what I like to refer to as a "Sonburst of Revelation." This is actually a circle that represents a continuing reference to a key revelation from God.
To illustrate the way in which the Sonburst helps us to understand God's Word in a deeper way, let's consider what the Bible has to teach us about salvation. Look at the diagram below.
In this particular sequence, our relationship with God is defined by the fact that our sin separates us from him. Romans 3:23 says, "For everyone has sinned; we all fall short of God's glorious standard." This quickly moves us to revelation as found in Romans 6:23, "For the wages of sin is death, but the free gift of God is eternal life through Christ Jesus our Lord." God reveals his righteousness to us through Jesus Christ. He shows us that we are all sinners in need of salvation which he has arranged to give to us as a gift. Salvation is the gift of eternal life through Jesus Christ. This is an incredible revelation! We cannot work for it. It is a gift. We are saved by what we receive by faith.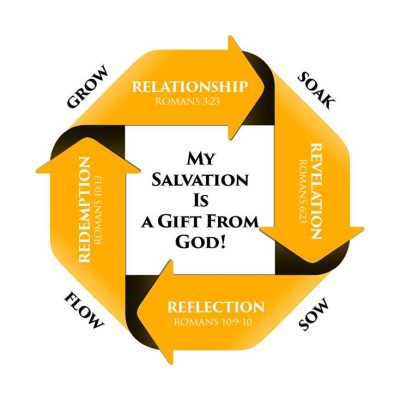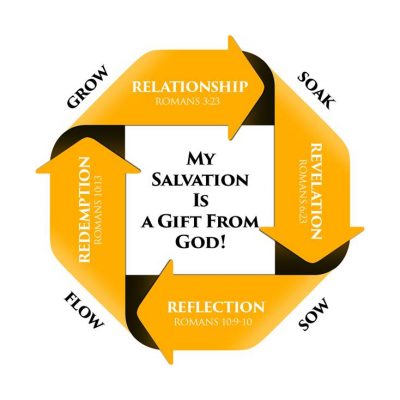 When something is revealed to us, we then need to reflect upon it. What does this really mean for me personally? What am I going to do with what I know? Romans 10:9-10 tells us, "If you openly declare that Jesus is Lord and believe in your heart that God raised him from the dead, you will be saved. For it is by believing in your heart that you are made right with God, and it is by openly declaring your faith that you are saved." If I take the next step to redemption I will experience Romans 10:13, "Everyone who calls on the name of the Lord will be saved."
The Sonburst diagram can be applied to any situation we are facing. We simply identify the core issue (in the center) and apply scripture through the four phases. Do you have a desire for God's Word? Christ lives in you and the same power that raised him from the dead is available to you! Sow God's Word deep into your heart and allow his power to flow through you.
In what ways are you currently sowing the Word of God into your life?