There is a tension that accompanies the life of any follower of Jesus Christ. We are made of flesh and blood, placed in bodies that will last a few decades before returning to dust. But we are unique among all living creatures in that we are spiritual beings as well. We have souls; we are made for eternity; and we survive the death of the body. Paul writes that "our citizenship is in heaven" (Philippians 3:20).
We hear a lot of talk about citizens and aliens these days. The truth is that we ourselves are citizens of another world, and even ambassadors of that world while we are here (2 Corinthians 5:20). This world is not the "main event" for us. Our true destination is an eternal one. Therefore we're never totally "at home" in this world; all human beings have an intuitive sense that there is another world, one that is greater—our heavenly home.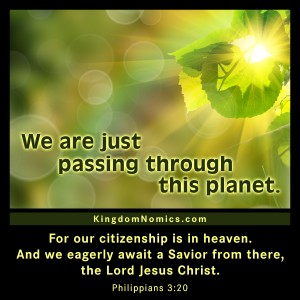 On the other hand, we don't sit waiting for heaven to begin. God has work for us to do here and now. We are here to bring glory to his name and people into his kingdom. The needs that we see in those people are spiritual needs, but there are physical ones, too. Jesus preached salvation, but he also healed the sick. He comforted the suffering and brought hope to people in despair. He brought heaven and earth, spirit and body, together in perfect harmony.
A fantastic KingdomNomics principle then is to be heavenly minded and earthly sensitive. This precept guides my investment mission. I set my mind on eternal things, but I live and work in the world around me based on perspectives from that heavenly world. The effect is that it gives me a richer experience in my present life, because the light of heaven brightens my physical world, and I can bring the needs of my physical world before God on his throne in heaven. Kingdom living makes me feel truly alive, in spirit and in body.
It's a win/win situation—what Paul meant as he wrote his letter to the Philippians. He was under house arrest by the Romans at the time; aging and facing increasing health problems. He was eager to be traveling and preaching, yet he couldn't leave the premises. And how did he respond? With a letter of incredible joy. For one thing, he was experiencing God's presence. No chains could limit that. For another, he was ministering to people through letters, and even to the Roman guards. He knew that if he was in prison, then it was somehow part of God's purpose for him, so he never lost his hope. And here's what he said: "For to me, to live is Christ and to die is gain" (Philippians 1:21).
To live, for him, was to experience Christ; to die was to go and be with Christ. Paul was a citizen of heaven, and therefore joyful on earth regardless of his circumstances.
Continue to read "Eternal Significance"
Related articles:
Converterlator
The Strategic Few
Free KingdomNomics Book and Devotions
The free KingdomNomics book provides an overview of biblical principles that show you how to lay up treasure in Heaven—treasure that will be enjoyed for eternity. Through the free KingdomNomics Applied devotions, you will discover principles that can help you become a wise steward of your time, talent, and treasure.
[go_signup]