Memorize and Meditate
"Little children, you are from God and have overcome them, for he who is in you is greater than he who is in the world." (1 John 4:4, ESV)
Soak your Heart
God has made such power available to us through the gospel. That power is the preaching of the cross: Christ—the power of God—is in us.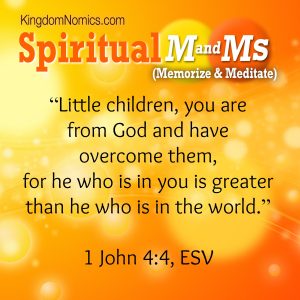 God wants us to experience Christ's resurrection power.
God wants us to comprehend the incredible greatness of his power toward us who believe—the same power he worked when he raised Christ from the dead. This power operates in our lives as we learn how to tap into it.
Sow to the Spirit
This "power" passage helps us expand our vision of God. As we understand that all power is sourced in God, we realize that nothing is too difficult for him to handle.
Practice
Beginning right now, claim this "power" verse as you walk with your Lord by faith.
Photo Credit: © Brian Jackson, via Fotolia