Memorize and Meditate
"In fact, we expected to die. But as a result, we stopped relying on ourselves and learned to rely only on God, who raises the dead. And he did rescue us from mortal danger, and he will rescue us again. We have placed our confidence in him, and he will continue to rescue us." (2 Corinthians 1:9–10, NLT)
Soak your Heart
At times, circumstances can seem overwhelming. Sometimes this happens so God can teach us not to rely on ourselves.  He wants us to realize that our sufficiency is from God. He wants to purge us of the leaven of trusting in self.
Sow to the Spirit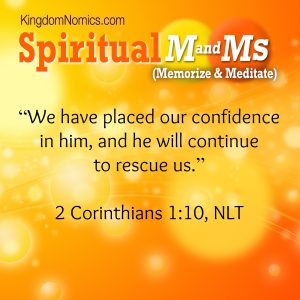 Christ provided us with eternal salvation, and we must learn to trust in him to live the Christian life. We can be confident that he will deliver us.
Flow with the Spirit
Only the power of the Spirit can purge us of the leaven of self-trust. Paul said that he and his friends carried the sentence of death in themselves so they would learn to trust in Christ. Death is a painful process. The sooner we submit to the Spirit, the sooner we have the prospect of God changing the situation, subject to his timing.
Practice
Ask God to train you, giving you his attitude so he can move you to the next step of his plan for your life.
Photo Credit: © Alessandro Capuzzo, via Fotolia