Memorize and Meditate
"It is good to wait quietly for the salvation of the Lord." (Lamentations 3:26, NIV)
It is so difficult to follow this seemingly simple instruction, isn't it? We get caught in circumstances beyond our control and experience pain, frustration, anger, suffering, and mental and emotional strain. These conditions can gain control of us.
Soak your Heart
Scripture counsels us not to be controlled by these "fleshly" factors:
"Commit your way to the Lord; trust in him and he will do this: He will make your righteous reward shine like the dawn, your vindication like the noonday sun. Be still before the Lord and wait patiently for him; do not fret when people succeed in their ways, when they carry out their wicked schemes. Refrain from anger and turn from wrath; do not fret—it leads only to evil." (Psalm 37:5–8, NIV)
Waiting for the salvation of the Lord is particularly painful when the impatient side of our sinful nature wants a solution "right now" without waiting for the Lord to act. That impatient attitude can short-circuit the working of God in our circumstances.
Sow to the Spirit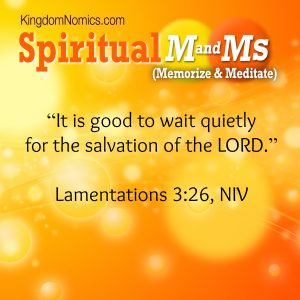 Instead of sowing to the flesh, we must learn to sow to the Spirit. Only then will we learn that, as we pray, the Spirit of God will deliver us through the riches found only in Christ. Only Christ can supply us with the patience, endurance, and demeanor that result in our trusting him. As we learn to trust, God responds in his way and in his time.
Flow with the Spirit
As we experience freedom from "fretting and anger," we become engulfed by a peace and contentment beyond understanding. As we sow to the Spirit, he imparts this supernatural life to us.
Practice
Pray with me: Today, I choose to commit and trust my circumstances to the Lord. I know he will act in his way and time. I choose to focus on him, not on the problems that so easily put my fleshly nature in control. I choose to abound in trust in him by the power of the Holy Spirit.
Photo Credit: © alexlmx, via Fotolia