Memorize and Meditate
"What is more, I consider everything a loss because of the surpassing worth of knowing Christ Jesus my Lord, for whose sake I have lost all things. I consider them garbage, that I may gain Christ and be found in him, not having a righteousness of my own that comes from the law, but that which is through faith in Christ—the righteousness that comes from God on the basis of faith." (Philippians 3:8–9, NIV)
Soak your Heart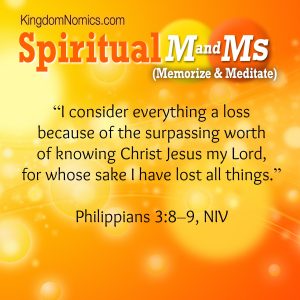 We need to soak our hearts in this passage often. It contains some hard lessons, from both a secular and fleshly standpoint.
The standards of the world system and the kingdom of God are diametrically opposed. Paul makes it clear that knowing Christ far surpasses any earthly, perishable goal the world has to offer. Paul lost everything to know Christ; he considered anything that would rob him of experiencing Christ as rubbish. He wanted his entire life sourced in Christ and hidden in Christ. He wanted his righteousness to come from Christ alone and not from any works sourced in his flesh.
From a secular standpoint, Christians fail. Yet, if through this experience God teaches and trains us so we conform more to his will in our attitudes, thinking, and behavior, we have a spiritual victory. This victory will echo into eternity!
Sow to the Spirit
Pray these verses, asking God to help you forget the past and reach forward. Time is short. Eternity is approaching at warp speed. We are passing away physically, and so is the world in which we live.
Flow with the Spirit
Only the Holy Spirit can transform our attitudes and thinking. For most of us this is a process of dying to the lures of this world and to the flesh, with its passions and desires. We must begin prioritizing the imperishable values of the real world—the world that will last forever.
Practice
Today, I pray that I will see and understand how truly I am passing through a world that is passing away. I want my life to be hidden more and more with Christ and to eagerly absorb his character, power, and viewpoint. I want to be consumed by him.
Photo Credit: ©Farias, via Fotolia