Memorize and Meditate
"Do not gloat over me, my enemy! Though I have fallen, I will rise. Though I sit in darkness, the Lord will be my light." (Micah 7:8, NIV)
Soak your Heart
We must train our minds to focus on the Lord when we are dealing with problems. If we focus on our problems, we will sink in the ocean of trouble, just as Peter did when he took his eyes off the Lord.
The Lord wants to purge us of self-trust so we can learn to trust in him. The mountain of self must be moved out of the way. Otherwise, we short-circuit his power from flowing through us.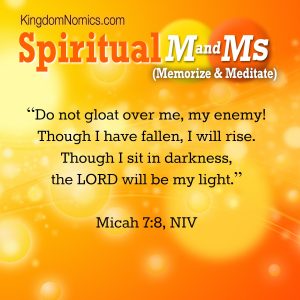 The way out is to memorize, meditate on, and practice what Micah said in this passage of Scripture. This "formula" for deliverance is still valid today!
As we focus on the person of Jesus Christ, in whom are all the treasures of wisdom and knowledge, then we will have a shot at deliverance. He is the source of power. He delivers us from our circumstances, subject to his training us and changing us by degrees into his likeness.
Sow to the Spirit
Have confidence that as we look to him, we will arise, even if we have fallen. We may have to sit in darkness for some time. However, we can make him our light–our reason for the hope of salvation. If we do this, then he can shine on us. When the Lord shines on us, things happen!
Practice
Today, practice making the Lord your light. Wait patiently for the salvation of the Lord, believing he will respond. Commit to doing this, even if things look bleak. As you trust in him, you will experience joy and peace through the power of the Holy Spirit.