Memorize and Meditate
"Then he said, 'Don't be afraid, Daniel. Since the first day you began to pray for understanding and to humble yourself before your God, your request has been heard in heaven. I have come in answer to your prayer.'" (Daniel 10:12, NLT)
Soak your Heart
If we would take time to follow the example of Daniel, we would place ourselves in a position where God can and will answer our prayers. This is truly a secret of the kingdom.
Daniel was a student; he practiced soaking his heart in the Word of God and he continually sought God's counsel. Position and wealth did not separate him from his relationship with God. Instead, he humbled himself under the mighty hand of God, believing and knowing God would act in his way and time. God honored that trust and acquainted Daniel with his ways.
Sow to the Spirit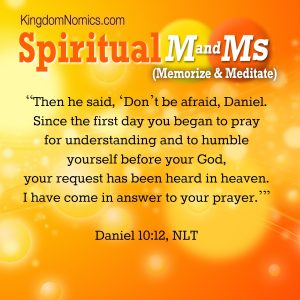 As I memorize and meditate on this verse, Father, I crave understanding so I can bring my life into conformance with your will. I humble myself before you, realizing I must learn to trust you, and not myself.  I am coming to realize that truly the fountain of life resides in you. I humble myself before you, praying you will find me fit for use for the advancement of your kingdom.
Flow with the Spirit
A basic KingdomNomics principle is to read the Word of God. Eat it. Live it. Trust that God will visit to perform his good Word toward us. As I go forth to my place of assignment each day, I look for the signs of his visitations.
Practice
Today, take time to allow these truths to become a core principle in your inner person. As you become acquainted with God through his Word, he will teach you how to pray effectively. Daniel shows us the way to do this. I choose to follow Daniel's example. Will you join me?
Photo Credit: © phanuwatnandee, via Fotolia