Memorize and Meditate
"Like newborn babies, you must crave pure spiritual milk so that you will grow into a full experience of salvation. Cry out for this nourishment…" (1 Peter 2:2, NLT) "…so as to walk in a manner worthy of the Lord, fully pleasing to him, bearing fruit in every good work and increasing in the knowledge of God." (Colossians 1:10, ESV)
"Rather, speaking the truth in love, we are to grow up in every way into him who is the head, into Christ." (Ephesians 4:15, ESV)
Soak your Heart
We are like a seed planted in the soil. The seed's purpose is to grow and multiply into something much greater than itself. It has to die and germinate before it can grow.
God's goal is to grow us into the likeness of Christ. He wants to equip us for helping to build the church—the body of Christ—with the gifts he has given us.
This is why he continually reminds us to cry out for the nourishment of his Word. Only his Word, through the work of the Holy Spirit, can make us grow into the vessels he needs to reflect his light in this darkened world. As difficult and painful as it is, we are to grow up into the person of Christ. We are complete in him.
Sow to the Spirit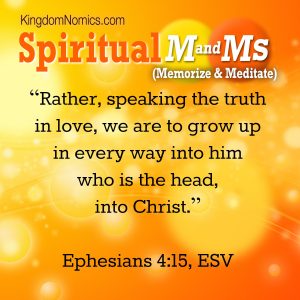 Oh, Father, this can be a hard lesson for me to learn. Help me to grow through the "obstacle course" of this world into the person of Christ you want me to be. I know that only through the nourishment of your Word working in the depths of my soul, by the Holy Spirit, can this occur. I crave your Word. Reveal to me what you want me to learn.
Flow with the Spirit
Today, my goal is to flow with the Spirit of God through the experiences he has in store for me. I may not understand now, but I know what his ultimate purpose is for me. By an act of faith, I choose to submit to him.
Practice
Ask God to help you understand more about what is going on, both in your life and in the world. This will help you develop a proper perspective about the events unfolding before your eyes.
Photo Credit: © blackzheep, via Fotolia