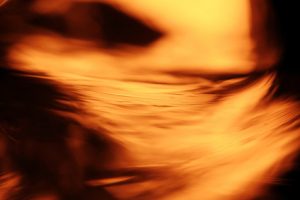 Memorize and Meditate
"Riches don't last forever, and the crown might not be passed to the next generation." (Proverbs 27:24, NLT)
"These trials will show that your faith is genuine. It is being tested as fire tests and purifies gold—though your faith is far more precious than mere gold. So when your faith remains strong through many trials, it will bring you much praise and glory and honor on the day when Jesus Christ is revealed to the whole world." (1 Peter 1:7, NLT)
Soak your Heart
Because we live in a perishing world, we "converterlators" must continually soak our hearts in the fact that earthly goals will pass away, along with riches, titles, positions, inheritances – all material things. Only what God guarantees will last forever.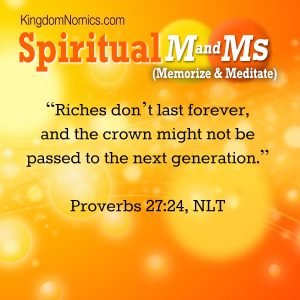 We cannot remind ourselves enough of the instruction the Word of God gives about meditating on his Word: "Study this Book of Instruction continually. Meditate on it day and night so you will be sure to obey everything written in it. Only then will you prosper and succeed in all you do." (Joshua 1:8, NLT)
Only as we commit to meditating on God's Word can we be successfully transformed. Furthermore, our trials and afflictions are for the purpose of testing our faith to purify it, as fire tests and purifies gold. In fact, scripture emphasizes that our faith is more precious than "mere gold," which is passing away along with everything else. We have to continually look to the unseen world of eternity instead of the seen world. The seen world is temporary, but the eternal world is forever!
Sow to the Spirit
Father, I remind myself of these truths by praying the content of these verses to you. Thank you for reminding me of them as I immerse myself in the powerful, purging truth of your Word. I am beginning to realize that faith is more precious than any earthly value. I ask that you direct my heart toward loving you. Empower me to submit to living under the power and control of the Holy Spirit. I pray this in the name of Jesus Christ.
Flow with the Spirit
As I go forth in the power of the Holy Spirit in the place assigned to me in your vineyard, I am looking for opportunities to converterlate the perishing things of this world into the imperishable values of God's eternal kingdom.
Practice
Ask God to instill in you a desire to make this way of thinking a core concept in your everyday living, beginning today.
Photo Credit: © kichigin19, via Fotolia