Memorize and Meditate
"For whoever finds me finds life, and obtains favor from the Lord." (Proverbs 8:35, NKJV)
Wisdom is what you and I want to find. If we find the right kind of wisdom we find life and favor from God.
We know the wisdom of the world is foolishness to God.
We know the preaching of the cross is foolishness to those who are perishing.
We know the wisdom of this world and the rulers of this world are coming to nothing.
So we have a decision to make.
Soak your Heart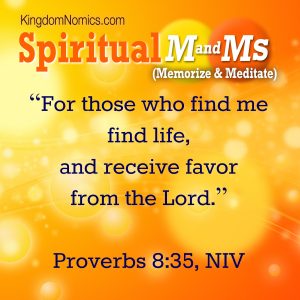 We want to soak our heart in the wisdom of God because it transforms the way we think and our attitude about what is going on in this world. The world seeks all that is in the process of perishing. We seek an imperishable crown.
Sow to the Spirit
Solomon asked for wisdom. Moses asked God to show him his ways, so he could know him and find grace and favor in God's sight. This is what differentiates us from the rest of the world: God's grace and favor.
We seek that wisdom from above, because in Christ are all the treasures of wisdom and knowledge. We are complete in him. Let's be sure to sow to the Spirit as we learn his wisdom and claim his promises. This sets the Spirit free to impart divine life to our mortal body.
Flow with the Spirit
The Spirit transforms us by degrees. His Word is always at work in us. For it is God who works in us, both to will and to work for his good pleasure. Each day we should acknowledge him and trust him to work out his will. Things may seem to be standing still, but we serve a God who is always moving, creating, and bringing to conclusion his plan for the ages.
Practice
We want to be in God's Word. His wisdom transforms our mind and renews us in every way. Let's always be in communion with the Holy Spirit. He is the one who searches the deep things of God. He can reveal what God wants to communicate to us.
Photo Credit: © miumiu03110311, via Fotolia