Memorize and Meditate
"Therefore purge out the old leaven, that you may be a new lump, since you truly are unleavened. For indeed Christ, our Passover, was sacrificed for us." (1 Corinthians 5:7, NKJV)
Soak your Heart
This is a tough passage. It means dying to self, and that can be a painful process; one that only the Spirit of God can bring about in us.
"Most assuredly, I say to you, unless a grain of wheat falls into the ground and dies, it remains alone; but if it dies, it produces much grain" (John 12:24, NKJV).
When a grain dies, only then can it produce more grain. In the same manner, Jesus wants us to die to self so we can produce much fruit for him. This way, both he and the Father are glorified.
Sow to the Spirit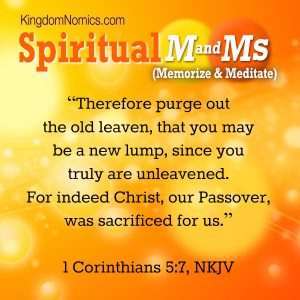 When you are in furnace of affliction, allow yourself to be trained by the ordeal. The sooner you accept the training, the sooner you'll be placed in a position where God can bring you to the next green pasture or place of fulfillment.
Flow with the Spirit
We all have issues to deal with. By the power of the Spirit we can abound in the peace and hope that only Christ can provide. As we look to him and trust in him, we have confidence that he will act in his way and time.
Practice
Pray for God's grace to flow through you when you face difficult times. We live in a volatile world. God wants us to grow with the increase that comes from God. This is why we must increase in our knowledge of the Lord through his Word. This is the only way we can make sense of what is going on in the world these days.
Photo Credit: © Africa Studio, via Fotolia