Memorize and Meditate
"For if you live according to the flesh, you will die; but if by the Spirit you put to death the misdeeds of the body, you will live." (Romans 8:13, NIV)
Soak your Heart
We cannot live the Christian life by our own power. By nature, we are shot through with sin. Only by the grace of God can we overcome the power of sin. This verse from Romans tells us that if we put to death the misdeeds of the body by the power of the Spirit, we will live and be able to overcome the power of sin. We have the choice to be filled with the Holy Spirit and to live under his control.
Sow to the Spirit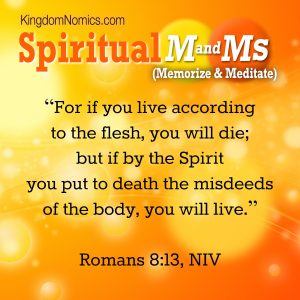 Acknowledge to God you are powerless to live the Christian life, and ask the Holy Spirit to help you walk under his control. Trust that he will empower you to live a life that is pleasing in his sight.
Flow with the Spirit
Receive by faith the life the Spirit will impart to your mortal body as you trust him to do so. Total dependence on him is critical. He is the conduit for imparting God's divine nature and power in your life. Think about that. No wonder Paul wants us to have communion with the Holy Spirit!
Practice
Ask God to fill you with his Holy Spirit. Look to him to reveal God's will to you as you immerse yourself in the Word of God. As you practice being filled with the Holy Spirit, you will begin to experience the power of the coming age.
Photo Credit: © Konstantin Yuganov, via Fotolia