Memorize and Meditate
"Yes, the Almighty will be your gold and your precious silver." (Job 22:25, NKJV)
Soak your Heart
For many people, money and earthly wealth become a god. However, as we begin to soak our heart in the Word of God and see it working in us and in our circumstances, a new reality comes into focus.
Our relationship with God is far more valuable than anything else. Whereas gold and silver are inanimate, all power belongs to God. He is alive. His works are wonderful. Life is found in him alone.
Soak your heart in this truth, and God will become your gold and precious silver.
Sow to the Spirit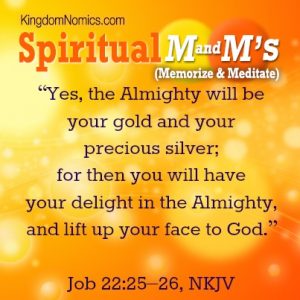 When I talk with God, I acknowledge that he is more precious to me than any material thing. He wants us to partake of his divine nature by way of his Holy Spirit working in us. As we sow these thoughts to the Spirit, we begin to experience the wonders of his Word and to taste a little of the power of the coming age.
Flow with the Spirit
What a sense of expectation we can have as we enter in the avenues of everyday life! As we focus on God – and not on the ever-changing circumstances which can pull us down – we begin to experience the power of this verse.
Practice
Meditate on this verse. Fill your thought life with thoughts of God, so he becomes more important to you than anything else. After all, every breath and every heartbeat is sourced in him. Keep him as the focus, and begin to see him operate in your life.
Photo Credit: © carasdesign, via Fotolia