Memorize and Meditate
"Therefore, get rid of all moral filth and the evil that is so prevalent and humbly accept the word planted in you, which can save you." (James 1:21, NIV)
Soak your Heart
For the Word of God to work in our heart, we need to make sure we have a clean heart, free from the control of sin. This is why we confess and repent of our sin to restore a working relationship with God.
One of the best protections against sin gaining control is to humbly accept and plant the Word in our heart. God's Word can save us from fear, anxiety, and a host of other maladies seek to control us. The Psalmist said he hid God's Word in his heart so he would not sin against God. We want to soak our heart in the Word.
Sow to the Spirit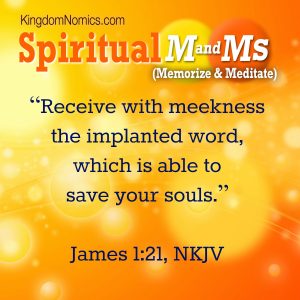 As I meditate on these concepts, I want to sow them to the Spirit by praying them into my heart and soul. I ask God to implant his Word deeply within my inner being. His Word is food for my spirit and soul. More times than I can remember, God's Word has cleansed me and set me free from fears, anxieties, worries, and other desires of the flesh that want to interfere in my relationship with God.
Flow with the Spirit
Now I flow with the Spirit into my everyday life as a cleansed vessel which helps me more effectively meet the challenges of life. Freed from hindrances, my attitude, desires, and expectations can be more in harmony with God's will. This is not some ethereal concept, but reality as the Spirit literally works inside of us to free us from the power of sin.
Practice
Implant the Word of God in your heart. It truly is a powerful medicine. Once ingested, it releases its power to overcome problems.
Photo Credit: © Brian Jackson, via Fotolia